More Information?
Click here for more information about the program. Or call us at (209) 223-3194.
May 10, 2015 - Update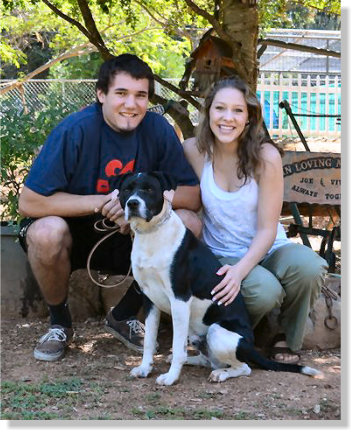 Our very special boy Davey is off to his new home in Mokelumne Hill. He has been adopted by clients of ours that will give him everything he could ever ask for. He will have property to romp and play on, 2 Australian Shepherd girlfriends and a wonderful family!
Davey will be coming back for group classes on the weekends for a while so we will be able to keep track of his progress with his new family.
Adoptee 258
Adoption fee $200
Boarding/Training donated: $3,445
---
February 21, 2015
Davey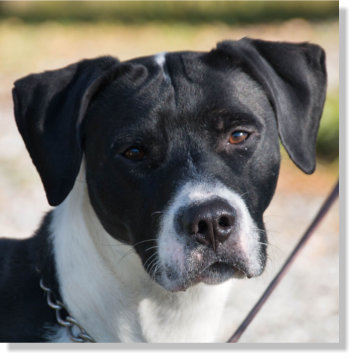 Davey hails from the great people at the Calaveras Humane Society. Davey is just under 2 years of age and looks like he could be a Pointer cross. We have done a DNA test on him but do not have the results back yet. We will update you as soon as we truly know what he is.
What we do know is… he is a wonderful, comical, friendly, energetic and fun loving kind of guy!! He seems to get along with everyone he meets, people and dogs alike!
We have not tested him with cats but he has not reacted too much when our resident "Cadog", that would be Gabby our Savannah cat that thinks she is a dog, has crossed his path! Davey is coming along nicely with all of his obedience and he has been introduced to all of the basics.

He went on his first pack walk this week but we have not taken him off lead yet. He had a blast playing in the water and running with the pack while he was on a long line. We will be taking him off lead in the next few days! Davey is sharing one of our 100' X 100' runs with our Amador girl Fawn and they get along famously!

They take turns chasing each other around the kennel and then they rest side by side sharing chew toys or bones. After a short rest, they are right back at a good game of chase!

Please give us a call or send an email if you would like to come out to Twin Cedar Ranch to meet this really cool dog!

Marge` Blair 209-223-3194

or

margaret@twincedark9.com