More Information?
Click here for more information about the program. Or call us at (209) 223-3194.
Update: December 26, 2013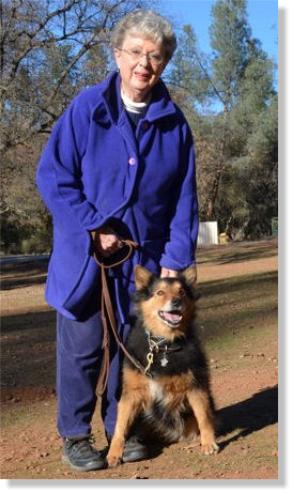 Our precious girl Lady Bug has finally found her forever home.
Her story just goes to show that if we are patient we can find that perfect home. In this case, Lady was waiting for Nora! Nora is an old client of ours that we have trained 3 other dogs for her.
The last dog we trained last year was nine years old when she adopter her from the shelter. This dog became very ill in the beginning of December and the vets could not save her, Nora was devastated and very lonely.
When she called me I knew that Lady would be a perfect fit for her. When Nora came out to meet Lady it was a perfect match and love at first sight for both of them!!
We will miss Lady but know this is the best possible home we could have hoped for.
---
Update: April 18, 2013
Harley & Lady were adopted by a wonderful friend of ours back in September 2009. They have been the perfect companions for her but she has now developed some health issues that make it impossible for her to keep them. Harley is now 8 years old and Lady is 10 years old. If you can give one or both of the wonderful dogs a home please give us a call.
History from her owner:
LADYBUG When I first adopted her, she was very snarky. She has become very mellow albeit very protective. When she gets to know you she is very loving. Upon meeting for the first time, I found that ignoring her works best. Sit down in a chair and let her come to you. She will nuzzle your hand to pet her. She is a barker to protect her property. A stern "ENOUGH" and she will stop. She is a food guzzler, so I bought her a special bowel which did the trick. She and Harley will roughhouse occasionally and it is fun to watch them play. She loves toys, however she will not share them with you. She will SHAKE paws with you. She is very affectionate and loves to be petted and cuddle.
They have both been to PARADISE DOGGY DAYCARE and do quite well with other dogs;. They have also be on a 8 to 10 week schedule at DOGGY STYLES PET SALON in Sutter Hill for grooming. They don't like it, but they behave well with Shauna, the groomer. I can't tell you how heartbroken I am at having to give them up. It was the only alternative I had left. I will miss them both immensely and just pray that someone will take them and love them as I do. If someone has any questions, please feel free to call me any time, Margaret has my number.
Marilyn Padgett

---
September 5th, 2009 - Update
Today is a very special day at Twin Cedar Ranch.
A very dear friend and client came out to meet Charlie and Lady to see if either one of them would be able to fill the void in her heart from loosing her previous dog "Jazz" to cancer.
The greatest thing happened, Marilyn fell in love with both dogs and couldn't see them being separated from each other so she adopted both!!!!
---
July 22nd, 2009
Lady Arrives at Twin Cedar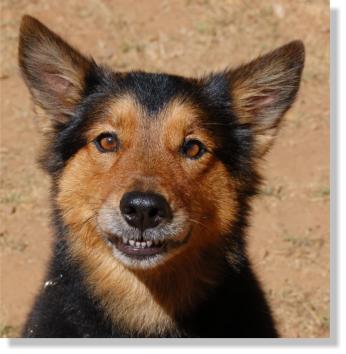 Lady is an owner sponsored dog. Lady's owner is an elderly man who has developed some health problems and he can no longer care for her properly. His family is sponsoring Lady so she can find a new forever home.
Because of her previous owner's health problems, Lady became very protective of him and the house. Since Lady has been with us, she has calmed down and has not shown any aggressive behavior.
Lady is 6 years old and is an Australian Shepherd/
German Shepherd cross. She does not act her age
at all! She loves to play ball and chew her favorite
green squeaky toy. Lady has beautiful focus and just
loves to come out and practice her obedience, or just
sit and cuddle with her trainer.

Lady is a little shy when you first meet her but warms up quickly. Lady is an excellent watch dog (she will bark when someone comes on the property) but we have not seen any territorial behavior with her kennel. When Lady first arrived she did not have very good social skills with other dogs but is doing much better now.

She has even been showing interest in meeting new dogs in the group classes. At this time we have not put her in with any other dogs to play off lead but are planning to give it a try in the next few weeks.

Lady is looking for a home with room for her run and play, and for a special person to bond with. She has definitely won the hearts of all of our staff out at Twin Cedar Ranch.

If you would like to come out to meet this great little girl, please give us a call or drop us an e-mail to set up an appointment.