November 21, 2013 - Update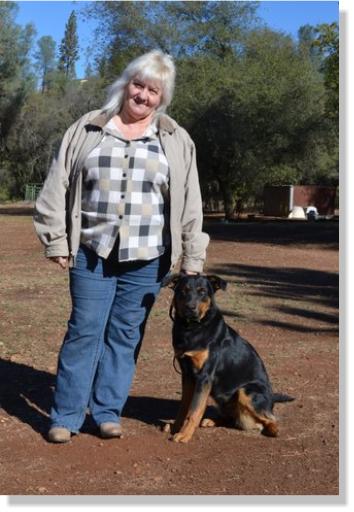 Our wonderful boy Clancy is off to his new home down in Camanche where he will be spoiled absolutely rotten!! He will have a nice big fenced yard and a wonderful new mom!
Hopefully he will be coming back for his maintenance training in our group classes on the weekends.
---
October 17, 2013
Clancy
Clancy is a sponsored dog through the Calaveras Humane Society. He was originally listed as a Rottweiler mix which he may be. We also think he may have some German Shepherd, Doberman or maybe even a little Kelpie.
All we can say is… he is one nice boy who loves to learn. In his very first lesson he learned how to heel, auto sit, down at the side and stay in a down! A very, very, smart boy!!
Clancy is very dominant but seems to get along with
everyone he meets. He is currently living with Ky and
Dallas who are both very dominant as well and they all
get along great.

Periodically throughout the day they get one heck of a game of chase going and every time you look up to their kennel, somebody else is in the lead. We think Clancy is between 1 & 2 years of age and he can fit into just about any lifestyle.

Because of his energy level, a home with property would be great for him. We have not tested Clancy with cats so it is unknown how he would be with them.

If you are looking for a very smart and willing dog that is pretty darn cute as well, look no further, this boy is for you!

Just give us a call to come out to meet him.