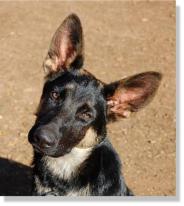 Greta was only with us for three days when she found her forever home.

Greta came to the Twin Cedar Second Chance Program from the Amador County Animal Control and Adoption Center on Oct. 2nd, 2008. She had been turned over to the shelter as a stray. Greta is about 14 weeks old and is a pure bred German Shepherd Dog. She had "Parvo" when she was brought to the shelter but is now a very healthy little girl.
Sandy is a great dog that came to us from the Amador Co Animal Control and Adoption Center. She is about 10 months old and we think she is either a pure bred Catahoula Leopard Dog or she may have a little Border Collie in her as well.
This has to be the best match we have ever had. Sandy has found her forever home with a wonderful family to call her own. Sandy just adores children and now she has two of her very own. She has a stay at home mom and a great buddy named Shadow.
Shasta left for her forever home today, not even looking back to say goodbye. She will be living with a couple that I have known for over 22 years. She will be living on 80 acres so she will have plenty of room to run and play.

Shasta arrived today from the Amador County Animal Control and Adoption Center. She is a 15 month old Lab/Australian Shepherd. Shasta is currant on all of her vaccines, spayed and on heartworm prevention.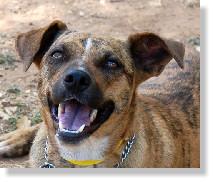 Tigger, now re-named "Sierra" has found her forever home. She has 11 acres to run and play on and a retired stay-at-home Dad to take care of her every want or need.

Tigger arrived today from Calaveras Humane Society (CHS). She looks like she could have some Boxer and Australian Cattle Dog or Kelpe in her. She is about 2 years old and in very good health.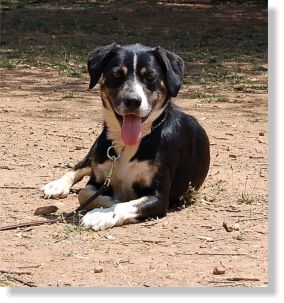 Reba has a wonderful new home! One of my clients from several years ago called to see what dog's that I had in my program. She came out and fell in love with little Reba. Kate wanted to change her name to "Mollie" and asked if that would be ok. Well it turns out Reba's original name was Mollie Mae and what gets even better is... Kate's middle name is...Mae!! This adoption is meant to be.

Reba came to us from the folks at Calaveras Humane Society (CHS). Reba is 14 months old and our guess is she is a Border Collie/Beagle cross with a lot of other breeds thrown in!!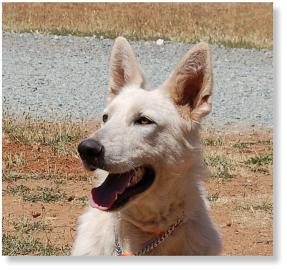 Eli is a very, very lucky dog. He was adopted today by a wonderful couple who recently had to put down their white German Shepherd because of old age related problems.
Eli Whitney was the inventor of the cotton gin. The nice folks at Animal Control gave me that name because of my white coat, or I should say what coat I had left. You see, my story does not start out to well. When I was born I had a condition called Generalized Demodectic Mange which was left untreated by my owner.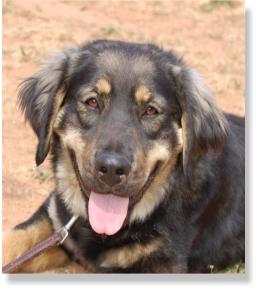 Sammy has a wonderful new home in Lodi. She was a Fathers day gift from a loving family to their Father. I'm sure she will be spoiled absolutely rotten in her new home.
She a wonderful little girl that came to us from the Calaveras Humane Society. She was an owner surrender to the Calaveras animal shelter. Although she was in good weight when she was surrendered it was very obvious that she did not receive the best of care in her previous home. Her surrender papers said she is good with children, men and women..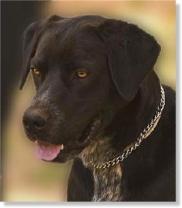 Rico found his forever home with a very nice family with his very own 15 year old to call his own. He will be very much loved which is exactly what the doctor ordered.
Rico is approximately 1 1/2 to 2 years old and our guess is he is a Black Lab/German Shorthair cross. Rico is fast willing learner when it comes to his obedience training. He just loves to come out and go to work.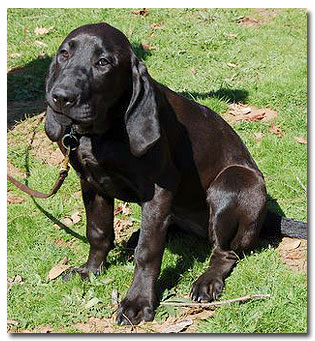 Lulu Belle is our crazy Bloodhoundador Retriever. That would be a Bloodhound/Labrador Retriever cross. Lulu was about 16 weeks old and came to us from the Amador County Animal Care and Control. She is a real wild child with all kinds of energy to burn. Once she settles down she is very sweet natured and loves to learn. In her first obedience lesson she learned how to do a focused heel and introduction to an auto sit. Lulu has found here forever home with one of the instructors from Jeff Schettler's TTT trailing school. Lulu truly is a very lucky little pup!
Emma came to us from the Calaveras Humane Society. She is a very sweet little American Staffordshire Terrier that was about 8 month old. Emma gets along well with everyone she meets. She is a bundle of energy and loves to play with all dogs, male and female. Emma was adopted by a family of four and will be living in Amador county with three other dog's to play with. Good luck Emma, promise to be a good little girl.
Bella came to us from Calaveras Humane Society. She is approx. 7 to 8 years old and a very sweet little girl. Our guess is that she is a Lab/German Shorthair Pointer. She got her wish for a new home and is now very happy.
Shiloh is a 2-3 year old sable German Shepherd who came from the Calaveras Humane Society. She was left abandoned along with her litter of puppies at a rental house in Calaveras County. Her puppies all found homes but poor Shiloh was left behind. The owner of the rental contacted CHS and they took it from there. She has been spayed, vaccinated and on heartworm prevention. Shiloh has been adopted by a retired couple and will have acreage to run and play on. Good luck Shiloh and promise to be a good little girl for your new family.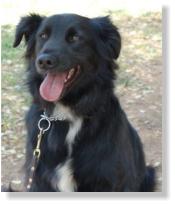 Jackie is one lucky little dog. He is a Border Collie/Golden Retriever mix and is about 3 years old. He now has the greatest family to call his own and because they live right here in Amador county he comes back for training and care when they go on vacation. What a lucky little dog.
Jake is one year old German Shepherd/Lab mix who came from the Amador County Care and Control. He was pretty much a wild child when he arrived but trained up nicely in a very short period of time. He was good with all other dogs, didn't bother the cats and just loved children. His wish came true when he was adopted by a family from South Lake Tahoe and has his very own three year old boy to play with. Good luck Jake, I hope you enjoy all of the white fluffy stuff that falls from the sky.
Coco is a very sweet, intelligent little Australian Kelpie who came from the Amador County Care and Control. Because of her cattle dog heritage, she was a little bit nippy when she arrived but just loved to do a good days work. She loved her obedience and agility training and was a great dog to socialize other dogs with. Coco was adapted by a family of four and has a little Jack Russell Terrier for a playmate. Coco comes back every weekend for group classes and is doing just great.
Tessi is a German Shepherd mix, solid black in color. She came from the nice folks at Calaveras Humane Society. Tessi was absolutely scared to death when she arrived at Twin Cedar K-9. She was different than most fearful dogs, she was more afraid l of women than men. Because of this, Rich spent a lot of time with Tessi trying to gain her confidence and provide the training and socialization that she would need to find a new home. Tessi did find that home and is now thriving. Good girl Tessi, we are so proud of you.
Josey is a German Shepherd/Husky that came from the Amador County Care and Control. Josey was heartworm positive and not very friendly to boot. Her lucky day came just a week after we had pulled her into our program. A couple had seen her at the shelter the week prior to Josey coming into the Second Chance program and they wanted to adopt her. The nice folks at APAL paid for her heartworm treatment and the new owners fostered Josey during her treatment. She is now spayed and feeling better than ever in her new home. Good luck Josey, come back and see us sometime now that you are feeling better.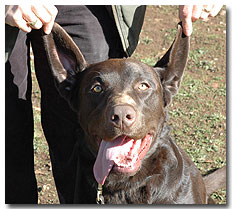 Nooah also came from the Amador County Care and Control. He is a very handsome young Chocolate Lab that is full of energy. Nooah and Cody could have been twin brothers if you took their behavior into consideration. The nice folks at the shelter gave him the name NOOAH because that is all they ever said to him. Just like Cody, Nooah loved his training and found a new home with a family to call his own.
Cody came to us from the Amador County Care and Control. He is a young and very rowdy Black Lab. He had absolutely no manners when he arrived at Twin Cedar K-9. Mugging visitors as they entered his kennel was his specialty. He would jump all over you and play bite every chance he could. His enjoyed his training and within two weeks he found his forever home. Good luck with your new family and promise to be a good boy.
Rowdy is a busy guy that just needed a job. Returned from a "no kill" shelter because they said he growled over his ball, he was doomed until he came to Second Chance. Like other dogs returned from that shelter, he was not aggressive at all. Now he is in training with a national search dog group where he will finally have that job. And maybe someday he'll save the life of one of those shelter people. Go get'em Rowdy! I'll miss you... but next time stop for a minute to say goodbye!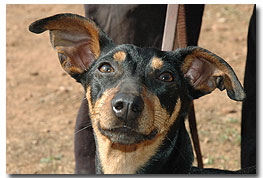 Little Duke is a special story. His days were about over and he was facing a certain death at the shelter. A soecial person saw the light in his eyes and gave him the chance he needed. She sponsored him so he could be rescued and trained until a home was found. That happened and now he is happily living in a loving home with a little roommate of his own. You are very lucky, Duke. Your angel was watching and saved you.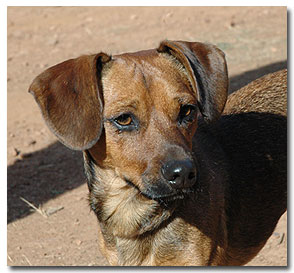 Merle came and quickly found a great home. He had a few names before getting Merle... most of the previous ones were not too flattering. They came from his mischievous ways. But now he has a home and owners that love him very much. Has grown thrived in a loving environment. Be good Merle, you are very lucky to have such a wonderful home!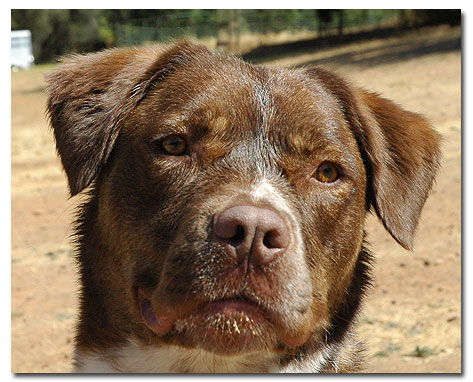 Some had their doubts, but our pretty girl, Wishes, finally found her home. She now has her very own family complete with another dog for a partner to play with. She almost was put down by the shelter, but her lucky star was shining and she come to the Second Chance program just in time. And since she tried so hard in school she is now a loved pet again. Goodbye Wishes... be good in your new home and remember us.
It took a long time, but now we say goodbye to our longest resident - Tucker. Lots of folks had their doubts about him. He was very enthusiastic and that often was one of his downfalls. At the shelter no one wanted to take him for a walk, so he stayed longer in his kennel. Which made him even more happy if someone came by, which made folks leave and so on... But he tried very hard here in school and didn't let us down. And now that he has a great home, we say a very fond goodbye. And you better be good, Tucker!
Miss Lilly is a happy girl on her way to a new life, and well deserved. She was a wreck when she arrived. Over weight, very dirty and her coat was in terrible shape. She was very down, and having had at least three litters she was also again pregnant when picked up by the shelter. All she wanted was to just be left alone. But with care, good diet and exercise, and training, a new dog soon emerged. She became a very happy and mischievous little girl. So we say good bye to our Miss Lilly. Good luck, Lilly! We'll miss your smile.