August 10, 2013 - Update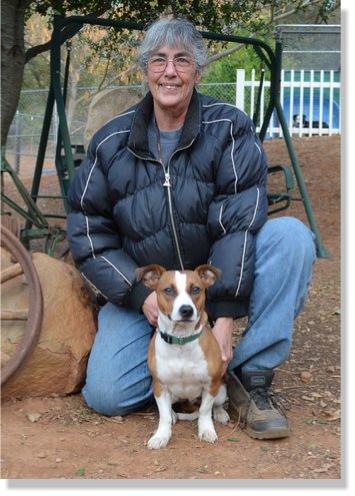 Our little scared boy Howie is off to his new home right here in Jackson.
One of my volunteers here at the ranch who has said she would only adopt a large dog with long hair(she has two Aussie's) fell in love with this small, short haired boy!!
Howie has blossomed since he has been with Kathy and is loving life.
The best part is, Kathy is out at the ranch 7 days a week helping with feeding and training so we get to see Howie every day!
---
April 9, 2013
Howie Arrives at Twin Cedar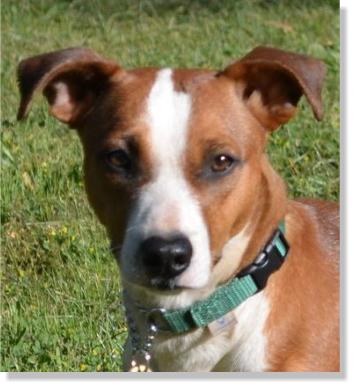 Howie comes to us from the Amador County Animal Control and Adoption Center. He is about 9 months old and per his previous owners, he is a Pit Bull mix. Auntie Marge` does not see any Pit Bull in him however! To us, he looks more like a Jack Russell/Corgi cross!
All we know is, no matter what he is, he is pretty darn cute!!!! Howie came to us very fearful of everything around him, people, dogs, loud noises etc... Since he has been with us he has really began to come out of his shell.
He has gone on several pack walks and has done very
well. Once he has bonded with his person (out here at the
ranch his person is Kathy) you would never know he had
any problems at all with people or dogs. Howie has been
kenneled with several dogs and has had a blast playing
with them.

We have started his obedience training and surprisingly, he likes to come out and work. He has a very nice focused heel and auto sit. He will stay in his sit as well. We are working on down but because of her fearful side he is not quite as confident with that command yet.

Howie would probably do best in a home that does not have a lot of activity going on but he is young and can still change quite a bit. He has a big dog attitude trapped in a little dog body.

He plays well with both big and small dogs and is good with both males and females! He is good with cats too!

If you would like to come out to meet this very cute little boy please give us a call to set up an appointment.