October 20, 2012 - Update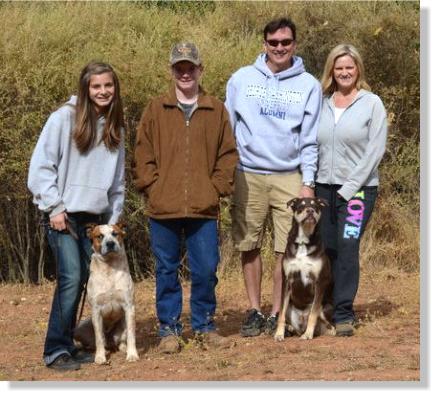 Our mellow boy Scout is off to his new home outside of Jackson and only a few miles away from Twin Cedar Ranch. He has a wonderful family and property to play on. He is one lucky boy!
Scouts new owners will be bringing him back for more training and we will look forward to those days. He won all of our hearts in a very short period of time!
---
September 24, 2012
Scout Arrives at Twin Cedar
Scout comes to us from the Calaveras Humane Society and what a great dog he is!! This is what the CHS volunteers had to say about him:
Mr. Mellow is what his name should be, however, someone dubbed him Scout. He is a Red Merle Queensland mix breed who weighs 56 pounds, is about 1-2 years old, has had his shots and tested heartworm negative.
This boy had been locked up for two weeks, came out of the kennel like a dream. Walked beautifully on leash, was not hyper after his kennel time, he greeted all the humans and other dogs very nicely and respectfully. Scout is one good boy.
One of his best traits is that he readily comes when
called. Mr. Mellow is right on the money! He gets along beautifully with all of the dogs here at Twin Cedar
Ranch and has even been going on all of our pack
walks since he has been here.

He just loves to play in the ditch and swim in the swimming hole! He is coming along nicely with his obedience training and has a very nice heel, auto sit and come. We are working on his downs but he is not quite so fond of that command.

As with everything else with the boy we are sure he will master that shortly. Scout is a real snug bug who thinks he is a lap dog!

He loves to go for rides in the car, go for long walks or just sit and snuggle with his trainers.

Scout is playful but not over the top when it comes to high energy and definitely knows how to relax.

If Scout sound like the dog for you, please give us a call, we do not plan on having him with us for long. He truly is an awesome dog.