June 18, 2012 - Update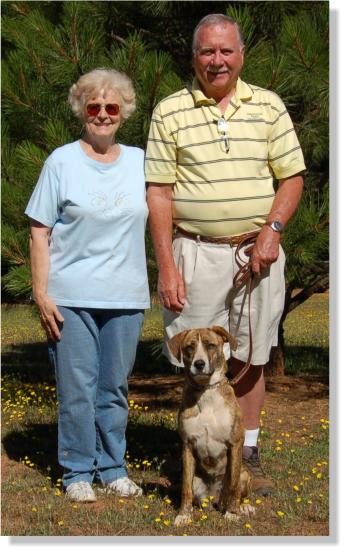 BJ now known as Katie is off to her new home in Pioneer. She is a very lucky little girl that has a wonderful new family and a home to call her own.
She will be coming back for our weekend group classes so her new owners will know everything she has learned while she was with us here at the ranch.
See you on Saturday Katie and promise to be a good little girl!
---
May 21, 2012
BJ Arrives at Twin Cedar
BJ is an Amador County girl and is just as cute as can be. She is about 9 months old and is possibly a Whippet cross.
She has been at the shelter for over two months and nobody had shown any interest in this cutie pie. She is a little shy when she first meets people but it doesn't take her long to come out of her shell.
She thought she had died on gone to heaven when she was put in our large 100' X 100' kennel that has pools, trees, dog houses and the best part…. A buddy named Shorty Short Cakes!
BJ is a real sponge to learn new things and really
enjoys her obedience lessons. She seems to get
along very well with all of the dogs and she loves to
play in the water, pool or hose!

It is unknown how she is with cats and we haven't had a chance to check her yet. BJ has been going on our pack walks with the Twin Cedar Pack and has been having an absolute blast. She romps and played in the water canal with the other dogs and you should see some of the jumps and flips that she does in the water!!

Per BJ's surrender papers, she is house broken, good with adults and children and that she likes to go for rides in the car.

If she sounds like she is the girl for you….please give us a call to come out to meet her.