Dennis, Roxi and Mokie
Mokie is a certified Therapy Dog with over three years of experience and hundreds of hours of public service including weekly visits to a Special Day classroom, helping with fourth grade school tours at The Kennedy Gold Mine, weekly summer shifts at Carson Pass for the El Dorado National Forest Interpretive Association, and weekly shifts at the Sutter Creek Visitor's Center.
Mokie's primary job is to allow unfamiliar people to make physical contact with him and for him to enjoy that contact. Mokie has been trained to be calm, submissive, polite, and to be content being handled by strangers.
Dennis and Roxi Price are both certified handlers of Mokie. Dennis is a retired teacher and Roxi is a toy designer for Folkmanis Puppets.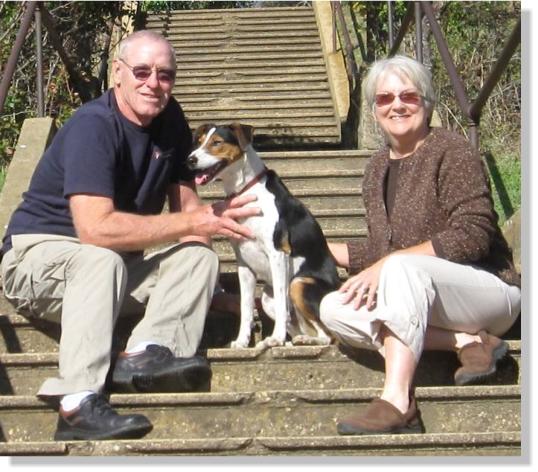 Mokie, a mixed breed is 4 1/2 years old.
Here's a photo of the special ed class that Mokie visits regularly. One kid at a time reads to him, and they give the class lots of cool puppets.