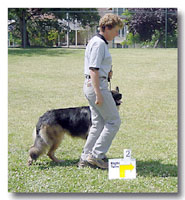 Rally O is a series of exercises set out on a specific course. The difficulty runs from Novice to Excellent. It offers an opportunity to have fun with your dog and work on obedience in a more relaxed environment than traditional obedience.
We have specialized in Rally O training since 2002 - before it was recognized as an official regular event by the AKC. Our trainers have earned over 18 titles in Rally O – our clients are almost always in the ribbons!
You can talk to your dog, motivate your dog, and even give double commands to your dog while you are in the ring!
Our Rally classes are drop in – no need to pay for classes you may not be able to attend. Every week we set up new courses for all levels, focusing on specific exercises. Training is usually at the Ranch; we may, however, set up a ring at a local park or school to give you and your dog the feel for competing in a real competition environment. When class is over, feel free to run your dog through the agility course or go for a walk up on the ditch (water canal) to let him/her cool off.
The Field Trip program is for those dogs that have been through some basic training and assessment, and are ready to apply the training in real life situations. With our instructors to help, your dog will continue to develop his social skills and you will identify areas that need further attention.
Our programs provide an introduction to those interested in working with their dogs to make a difference in someone's life. There are specific requirements and training for both the animal and handler to become registered and we provide both the training and practice to pass the Therapy Dogs International test. In our classes, the handler and dog will learn the skills to succeed in the therapy environment. We provide the training and practice to get you registered and ready to volunteer in this rewarding field For more information about this wonderful opportunity please visit TDI (Therapy Dogs International).
Residency Program - aka Boot Camp!
This program was designed for those who do not have time to train their own dog. Our residency programs run from four days to four weeks, or longer if needed, teaching the basics and beyond. Dogs should be at least 5 months old for the residency program and as long as the dog is healthy there is no upper age limit. Problem dogs, or dogs with issues, are accepted into this program. Your dog's accommodations are at least 100 x 100 feet enclosures with doggie swimming pools or 12 x 12 kennels with 12 x 40 foot runs with swimming pools. Your dog will learn all of the basics and more. Roommates for your dog can be provided if you wish. Your residency program comes with a go-home lesson to show you everything your dog has learned and to be sure you are comfortable following through with his training when you get home.
Tracking and Item Locating
This is a specialty program by Twin Cedar K9. Margaret has been working with tracking and trailing dogs since 1992. She began by training her husband Brain's Sheriff's K9s Duff and Luka. She has trained under Sandy Bryson, author of Police Dog Tactics and Search Dog Training and most recently, has attended trailing dog seminars with Jeff Schettler's Tactical Tracker Teams. www.tacticaltrackerteams.com We have access to our 85 acres here at Twin Cedar K9 as well as several local ranches to provide you with exceptional training grounds for you and your dog to learn this fun and rewarding field. We can help prepare you for tracking and article locating for the AKC TD, TDX and VST tracking test. Our trailing training will prepare you for search and rescue and/or law enforcement man trailing. Puppies as young as 8 weeks can begin their tracking and trailing training.
Special classes just for these great dogs. We teach at their pace with the goal of strengthening the bond between the owner and companion. We have fun too! Who says Greyhounds can't do agility? Plus, they are pretty good at marching, too!