Paws in the Park & Strut Your Mutt Sept. 25, 2004
The annual event was held at Minnie Provis Park in Downtown Sutter Creek on Saturday. A number of events were held and here are a few pictures of the festivities.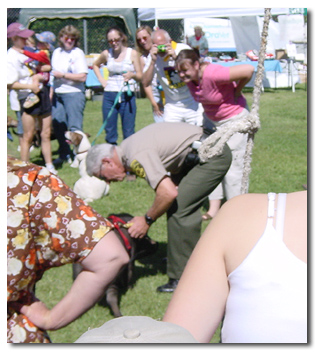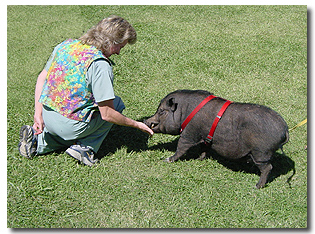 Amador County Sheriff Mike Prizmitch (left) and Dr Allison Pillsbury of Foothill Veterinary Clinic share the honors of kissing Gordy the pig. They both raised over $160 each in contributions for the A-Pal of Amador County.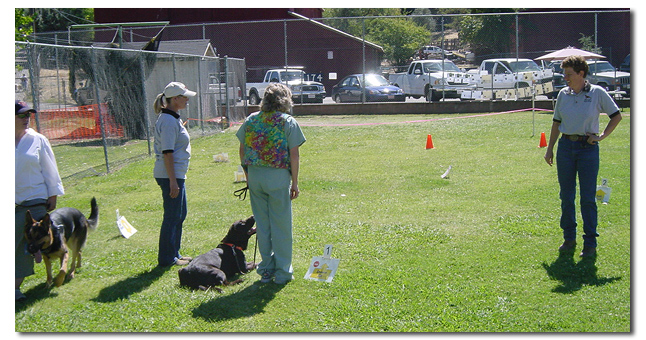 Margaret, Cal and Joe of Twin Cedar setup a Rally-O course where for a $5.00 donation to A-Pal, folks could try running their dogs through. Basic obedience exercises such as sit and heel are performed at each sign before moving to the next. It is a new sport intended to be fun for the dog and handler without the formalities of traditional obedience.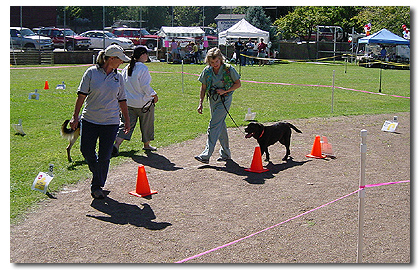 After a little practice even spiraling through the cones was not t too difficult. The dogs catch on after a sign or two. And it was great for a laugh for both the handlers and spectators alike.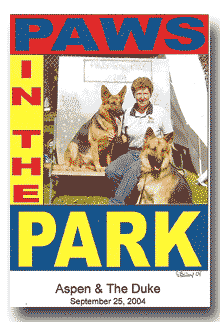 Defending Twin Cedar's honor, Aspen (seated on the bench with Margaret) wins the Most Obedient Dog competition and Duke wins Best Looking.