The Grandfather!
Luka has retired from the Amador County Sheriff Department where he was one of the top working dogs competing in the Western States Police K9 Association.
He's training at Twin Cedar by Margaret started when he was a puppy. He received his POST certification at 15 months. His certification includes Evidence, Tracking, Area and Building searches, Obedience and call off, Apprehension and Handler Protection.
When working, he assisted in several apprehensions of felony suspects. He located evidence related to many crimes and is cross trained for locating narcotics.
After retiring he is keeping very busy. He is very popular with all of the local schools giving police dog demonstrations. He also is a favorite on the ranch with his ever-present kong toy and ball. He keeps his training current and is now practicing for Rally Obedience competition starting in January 2005.
Luka is also very proud to be the cover boy for Sandy Bryson's excellent book "Police Dog Tactics" where he is mentioned several times and in an interview with his partner and Margaret's husband, Brian.
Click here for some pictures of Luka in action and working.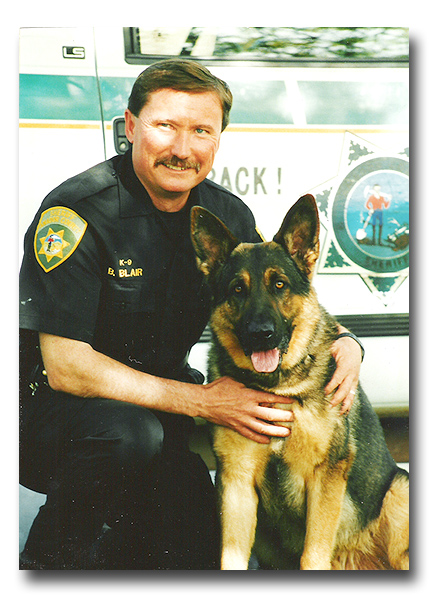 Here is Brian and Luka, while he was still working.