Update: June 3rd, 2010
Now Sunshine (Sunny)
Margaret,

She has been doing great. Her and Miles have exactly the same energy and have great chemistry together. When we give the "free dog" on our walks they match strides and walk right against each other tails wagging high. They are perfect together. Not many anxious moments and even when feeding there is respect for each others bowls.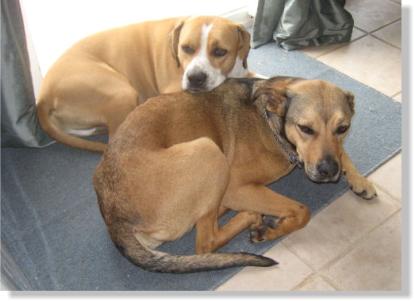 They share toys and Miles loves having someone else to run around the yard with.
At first we couldn't get a sit to save our lives without a treat, but now she just needs a scratch for a reward. She is very smart and eager to please. She learns quickly.
How did we get so lucky again?
Sunny is a little more then interested in the cats and isn't as patient as Miles with their aggression, but we have made good progress with both the cats and Sunny. They are getting used to the idea that the situation isn't going to change and learning to co-exist.
We will see you Saturday for training in the morning and we are taking Sunny to our vet for a chip, rattlesnake shot and to get her familiar with our doggie doc.
Thanks again Margaret, this is the second time you have found a perfect dog for our "pack" There is no doubt in my mind that good karma runs deep at TwinCedarK9.
Love from the pack,
Greg, Denise, Miles and now Sunny.
---
May 30th, 2010 - Update
Little Miss Rika has been adopted by a wonderful couple who live on acreage in the Lake Camanche area.
She will have a new buddy Miles, who also is a Second Chance graduate. Miles and Rika will be coming back for our group classes on the weekend so Rika can continue her training and so Miles can brush up on his.
Miles say's he knows everything and it is his parents that need the training but he will humor them and act like it is him that needs the training!
See you two in a few weeks…
---
May 10th, 2010
Rika Arrives at Twin Cedar
Rika arrived today from the great folks at the Calaveras Humane Society. Rika is between 2 & 3 years old and is a German Shepherd mix.
Rika and two of her littermates spent the first years of their lives living in a small kennel and never were a part of a family.
They were not socialized or trained and only had each other for comfort. They were finally rescued by the Calaveras County Animal Services and taken to the shelter.
Unfortunately Rika's two buddies did not make it do to their aggressive behavior. They were so under socialized and aggressive, there was no safe alternative for them and they had to be euthanized. Little Rika on the other paw, had a very sweet temperament and just needed to be socialized and taught that people were a good thing and that she did not need to be fearful of everyone that she met.

CHS brought her out for an evaluation to see if she
would be a candidate for our Second Chance Program. Well, little Miss Rika passed our test with flying colors
and moved right in. Since she has been with us, she
has settled in to the good life.

She loves her huge kennel and even has a new roommate that she just adores. Rika and Otis are quite the couple! They romp and play and then snuggle up and take long naps together in the sun (when it manages to come out).

Rika is doing great with her obedience training and has already learned most of the basics such as: Heel, auto sit, down, stay and come. She seems to get along with all of the other dogs and is very playful.

Rika would do well in just about any situation. She likes everyone she meets and gets along well with other dogs.

If you would like to meet this sweet little girl, please give us a call to set up an appointment to come out to the ranch to see if she is the dog of your dreams.