Update: December 4 th, 2009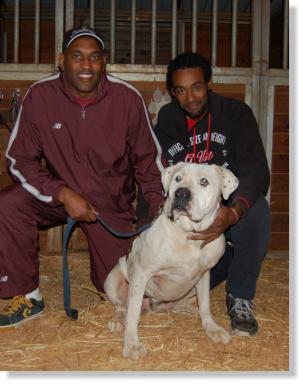 Today is Champs lucky day! His new owner drove all the way up from Southern California to meet him and of course, he fell in love with him. The love went both ways!
Champ will have two kids, ages 9 and 15 to love and protect. We will miss this big boy, he made quite the impression with everyone he met.
Ruthie and Kazumi will miss him the most, they were always battling as to who would work him in the group class. Good luck Champ aka Sherman, we will miss you. !
---
Newsflash!!
Champ was given the AKC CGC test on November 29th and passed with flying colors. Way to go Champ!
---
November 23rd, 2009

Champ arrives at Twin Cedar K9 and is a sponsored dog.
We believe Champ is a Dogo Argentino which is a farely rare breed from Argentina. Here is what the Rare Breed Atlas has to say about the Dogo Argentino.
History
The Dogo Argentino was developed in the 1920's by Dr. Antonio Nores Martinez. Dr. Martinez's overall goal was to develop a pack-hunting and guardian breed that was also a loving family companion. They were used to hunt wild boar, puma & jaguar. In order to achieve this goal, Dr. Martinez started with a breed of mastiff called the Dog of Cordoba. Although this breed is now extinct, it served as the foundation for the Dogo Argentino.
In addition to the Dog of Cordoba, there were a number of other breeds that contributed to the Dogo Argentino. Such breeds include the Great Dane, the Spanish Mastiff, the Bulldog, the Bull Terrier, the Boxer, the Great Pyrenees, the Pointer, the Dogue de Bordeaux, and the Irish Wolfhound.
The Dogo Argentino has a history of dog-fighting, and has received a blow to its reputation as a result. Britain has national legislation for the purpose of controlling dogs in public, and the Dogo Argentino is one of three dog breeds that are completely banned. While the Dogo Argentino may not be the choice for everyone, they make wonderful companions with proper training and socialization. People that train these dogs to fight have given them a bad name. The breed has a number of natural talents including competitive obedience, military and police work, narcotics detection, hunting, tracking, guarding, watching, and schutzhund.
Character
The Dogo Argentino is an outstanding guardian that is easy to train. They are loyal to their family, cheerful, and highly intelligent. They are very affectionate towards people they know, and they are very patient and good with children. This breed does best with a firm, consistent owner that will give plenty of love and attention.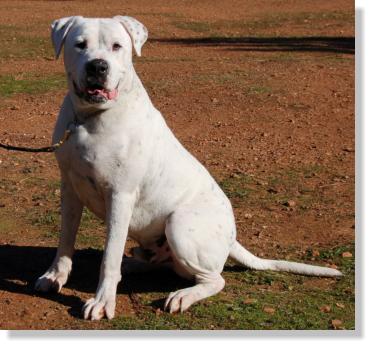 The adult Dogo Argentino will sometimes respond
aggressively to other dogs, but they are usually not the
one to initiate the confrontation. This breed generally
isn't suitable for first-time dog owners. Like all other
dog breeds, temperament will vary from one specimen
to the next. If trained and socialized from an early age,
the Dogo Argentino will get along well with other pets.
He was surrendered to the Second Chance Program because of a fight that he had with a un-neutered male dog.

Champ has been very social and acts like he wants to play with the Twin Cedar Pack, but at this time he has only been allowed to meet dogs on lead.

Champ is 3 years old and has a very sweet temperament. He would love to be a lap dog but at his size… 118 pounds! Yes he is on a diet! Sitting on laps is not an option.

Because of this, we are looking for a home without other dogs. He is wonderful with all the people he meets and loves coming out to practice his obedience.

He was perfect for his bath and has shown no sign of any aggreassion since he has been at the ranch.

If you are interested in meeting this Big Wonderful Boy, give us a call to come out to meet him.